Saved Talent: 0 | Contact CTI with my list
Beatlemania Now (Tribute To Beatles) Booking Agency Profile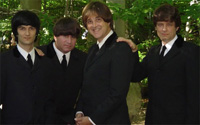 Specifics
Type
Performer
Contact us for exact fee details
Minimum Fee US Dates
$20,000-$30,000+
Minimum Fee INTL. Dates
$60,000-$89,998+
Style
Tribute Show
Keywords
Audience Age-30's-50's, Audience Age-60's+, Impersonator, Pop, Rock, Theatrical, Tribute Show, Comedian-Impersonator(single Persona), Rock-N-Roll, Tribute Show Style, Tribute Show-Pop, Tribute-Rock-Rock N Roll
Touring for close to a decade, Beatlemania Now has become the premier multi-media Beatles tribute show in America today. Incorporating 5 costume changes, featuring over 150 Big screen images and performing over 35 songs in a two-hour extravaganza, Beatlemania Now chronologically traces the Beatles career from their 1964 U.S. debut explosion on the The Ed Sullivan Show, to the finale of Let it Be" in 1970. The band Beatlemania Now is composed of 4 accomplished musicians/actors/Beatles Impersonators who all bear uncanny resemblances to John, Paul, George and Ringo. Having performed their Beatles tribute before tens of thousands of people over the years, ranging from more intimate club performance to huge outdoor gatherings of well over 20,000, Beatlemania Now successfully recaptures the mood and frantic intensity of that by-gone era. The performers skillfully and effectively recreate the sights and sounds that were and still are ... the Beatles!
Talent you might also consider...
How to hire Beatlemania Now (Tribute To Beatles) for an event
CTI is a celebrity booking agency for paid events, we do not handle media requests, interviews or give out any contact information.
To hire Beatlemania Now (Tribute To Beatles) or to get availability and pricing on Beatlemania Now (Tribute To Beatles) for a corporate or fundraising event, private performance, entertainment, or meeting please submit this form to our agency:
IMPORTANT: CTI will not give out direct celebrity contacts, relay messages or ask celebrities for donations.
* denotes required field
Remember: Celebrities do not donate their time and always will charge a fee to do any event, project, venue or celebrity appearance. Celebrities will always need the following detailed information to consider your request. Please fill out this form as completely as possible.
Contact us to hire Beatlemania Now (Tribute To Beatles) at 760-729-2000
Beatlemania Now (Tribute To Beatles) Booking Agent Information
For information on booking Beatlemania Now (Tribute To Beatles) for a speaking engagement, personal appearance, corporate entertainment, endorsement, or private corporate function or to hire Beatlemania Now (Tribute To Beatles) for projects, print advertising campaigns, media events or fundraisers, then contact CTI. Beatlemania Now (Tribute To Beatles) will be contacted directly by CTI or the agent, booking agent or manager. CTI is your booking agency for Beatlemania Now (Tribute To Beatles) for concerts, conventions, trade shows, television and radio commercials, spokesperson campaigns and endorsement projects. CTI agency will help confirm Beatlemania Now (Tribute To Beatles) if the buyer has the budget and Beatlemania Now (Tribute To Beatles) is interested in the event. A CTI agent can assist on the production requirements for Beatlemania Now (Tribute To Beatles) when needed.


CTI is a major performer, speaker and pro athlete booking agency, representing organizations seeking to hire major acts for concerts, corporate events, corporate entertainment, endorsements, personal appearances, spokesperson campaigns and speaking engagements. Our agency has been business for over 30 years, and it is our high quality service and consideration to our clients, and the acts they hire, that sets us apart from other booking agencies.
As an experienced booking agency, we represent the buyer and are a booking entertainment agent for corporate functions, corporate entertainment, private events, celebrity oriented projects and speaking engagements. CTI uses its industry knowledge and experience as an agency and helps the buyer of major acts and does not claim or represent itself as the exclusive agent, manager or management for any artist on this website. CTI works for what is best for its clients and is not hired as a agent by the celebrity to get bookings and projects, as an agent and manager is hired.
Use the CTI agency to find other top rated performers, business speakers, celebrity entertainers, corporate entertainment, Grammy Award winners, celebrity speakers, major athletes, PGA golfers, Olympians - for promotions, advertising, representation, booking agent, celebrity booking services. We are involved in hiring top acts, spokespersons, and experts - and are a supplier, event speaker agency, sports and athlete personal appearance booking agency. CTI has direct contact to all industry experts including celebrity chefs, stylists, fashion experts, lifestyle/entertaining professionals, health experts, home improvement experts, organizational experts, relationship experts, travel experts and much more.
Since 1979 we have provided our booking agent service to thousands of businesses, organizations, and individuals that have needed a booking agency to secure top acts, celebrities, personalities, and sports figures for their events and entertainment needs. We have worked with a countless number of top acts and even enjoy personal friendships with some of the celebrities where we've been the booking agent for on behalf of our clientele; to the point where they will do an event we approach them about - without any hesitation! A booking agent is needed to contact top acts and major performers on your behalf and negotiate the best pricing; as they generally do not directly handle their own appearance work or negotiate compensation.