Saved Talent: 0 | Contact CTI with my list
Showing All Talent within a Budget Range of $100,000.00-$150,000.00 -
Displaying 10 Talent Profiles

Having achieved every imaginable goal from a player's perspective, Magic Johnson embarked on another basketball-related ambition in 1994 when he began his first year as the Lakers' Vice President. Magic Johnson's illustrious playing career, which consisted of hundreds of highlights, is most accurately summarized with a single word- winner. Magic Johnson was the guiding force behind championship-winning teams at every...
read full bio

Ed Harris is an actor, writer and director, known for his performances in Appaloosa, Creepshow, The Rock, The Right Stuff, Enemy at the Gates, The Abyss, Glengarry Glen Ross, Apollo 13, Pollock, A Beautiful Mind, A History of Violence, National Treasure: Book of Secrets, The Hours, Milk Money, and The Truman Show. Harris has also narrated commercials for The Home...
read full bio

Actor Ed O'Neill is best known for his role as the main character, Al Bundy, on the Fox Network sitcom Married... with Children, for which he was nominated for two Golden Globe Awards. Married... with Children aired for ten years, from April 1987 until June 1997. Since 2009, he can be seen on the award-winning ABC sitcom Modern Family in...
read full bio

Edward Norton is an Academy Award winning actor, screenwriter, film director, and producer. In addition to acting, Norton is an environmental and social activist. After high school, Norton worked for his late grandfather's Enterprise Foundation, a national nonprofit that provides affordable housing for low-income people in large cities. Norton now serves as a trustee for the organization in which his...
read full bio

Making his film debut with a minor part in Back to the Future Part II, Elijah Wood landed a succession of larger roles and became a critically acclaimed child actor by age 13. After his high-profile role as Frodo Baggins in Peter Jackson's critically acclaimed The Lord of the Rings trilogy, he has resisted typecasting by choosing varied roles in...
read full bio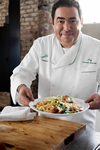 Emeril Lagasse is the chef/proprietor of two New Orleans restaurants: Emeril's and Nola (an acronym for New Orleans, Louisiana) and most recently, he opened Emeril's New Orleans Fish House in Las Vegas's MGM Grand Hotel. Emeril Lagasse is also a national television personality, hosting Television Food Network's highest-rated program, "The Essence of Emeril,"and he has also become an established cookbook...
read full bio
Topic:
Chefs
Min. Fee: $100,000-$150,000

Emma Thompson is an English actress, comedian and screenwriter. Her first major film role was in the romantic comedy The Tall Guy. In 1992, Thompson won multiple acting awards, including an Academy and a BAFTA Award for Best Actress, for her performance in the British drama Howards End. The following year Thompson garnered dual Academy Award nominations, as Best Actress...
read full bio

Enya, is an Irish vocalist, instrumentalist and composer. She began her musical career in 1980, when she briefly joined her family band Clannad, before leaving to pursue her solo career. Her album Watermark, which was released in 1988, propelled her to international recognition and Enya became known for her unique sound, which was characterized by voice-layering, folk melodies, synthesized backdrops...
read full bio

Because we worship Billie Holiday, whisper her name with quiet reverence, it is no small thing to name her successor. The natural response is to be skeptical. But once you feel the vibration from the timbre of Erykah Badu's voice you will understand immediately this is no marketing ploy. In fact, a comparison to Billie could bear weight that no...
read full bio
Style:
R&B
Min. Fee: $100,000-$150,000

Longoria Parker stars as Gabrielle Solis on the ABC-megahit Desperate Housewives." The show is a multi-Emmy, Golden Globe, and Screen Actors Guild Award-winner, with more than 30 Million viewers in the U.S. and shown in 208 countries around the world, which is now going into its 6th season. Longoria Parker has received numerous awards: People's Choice Award-winner for favorite female...
read full bio
Displaying 10 Talent Profiles