Saved Talent: 0 | Contact CTI with my list
Showing All Talent within a Budget Range of $7,500.00-$9,999.00 -
Displaying 6 Talent Profiles

In an industry notorious for ego clashes, break ups over trivial artistic differences, and ever-evolving shifts in the public's often fickle tastes, smooth jazz supergroup Fattburger--whose irresistible melodic blend of funk, blues, pop and Latin influences is often called The Sound of San Diego"--has bucked the odds and stayed together for nearly fifteen years. Reflecting on the band's longevity and...
read full bio
Style:
Jazz
Min. Fee: $7,500-$10,000

FERNANDO BERMUDEZ served more than 18 years in New York State maximum security prisons following his wrongful conviction of murder in the shooting death of Raymond Blount in 1991 until proven innocent in late 2009 with assistance from pro bono attorneys from Washington, D.C., New Jersey and New York. Mr. Bermudez's case presents a rare instance of New York...
read full bio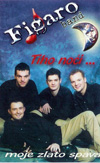 In the spirit of Il Divo, an exclusive group of the world's best young opera, musical theater, and concert artists have joined to perform entertaining and moving renditions of popular "crossover" classics. Versatile and highly adaptable, our performances are customized to suit the unique nature of each even and location, while incorporating that specialized touch of audience interaction. ...
read full bio

If you want a message, check your voice mail. If you want a laugh, book Frank King. His corporate comedy is clean, clever, and completely lacking in content. He's got nothing to say, and you'll enjoy every minute of it. King also has a special place in his heart" for the healthcare industry. Several years ago, he underwent an aortic...
read full bio

FUNNY FRANK, aka Frank Olivier has been performing professionally for 20 years, and perfecting his craft since age 11. He has never known 'normal' work. Growing up in the Bay Area, the self taught Frank was soon a regular on SF television, playing with a small circus, and honing his technical skills. Upon graduating from high school, Frank...
read full bio

EVERYBODY DANCE NOW!!...With over 8 million units sold, it is still today one of the biggest selling dance records of all time! As the front man and co-founder of the international multi-platinum selling group C and C Music Factory, Freedom has traveled and performed around the world extensively. Freedom, Cole and Clivilles would form C and C Music Factory featuring...
read full bio
Displaying 6 Talent Profiles