Saved Talent: 0 | Contact CTI with my list
Showing All Talent within a Budget Range of $30,000.00-$39,999.00 -
Displaying 14 Talent Profiles

After embarking on a solo career, Nadia Ali became successful as an oft-requested vocalist in electronic dance music. She released her debut album Embers in 2009. Critics praised her unique songwriting, which combined electronica with ballads, Eastern and acoustic music. Three singles from the album reached the top-ten of the Billboard Hot Dance Club Play Chart, including the No. 1...
read full bio
Style:
Pop
Min. Fee: $30,000-$50,000

Nanci Griffith's career has spanned a variety of musical genres, predominantly country, Folk, and what she terms folkabilly." Griffith won a Grammy Award for Best Contemporary Folk Album in 1994 for her recording, Other Voices, Other Rooms. This album features Griffith covering the songs of artists who are her major influences. One of her better-known songs is "From a Distance"...
read full bio

Nancy Grace is the anchor of both CNN Headline News"s Nancy Grace show and Court TV"s daily trial coverage program, Closing Arguments with Nancy Grace (off the air). Prior to her broadcasting career, Grace served in Atlanta"s Fulton Attorney's Office, where she compiled a perfect record of nearly 100 felony convictions on cases ranging from serial murder and rape to...
read full bio
Topic:
Media
Min. Fee: $30,000-$50,000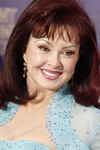 From humble beginnings as a single Mom in a small Kentucky town to her meteoric rise as a country music superstar and American icon, Naomi Judd's incredible lifelong journey is an inspiring story of overcoming the odds through optimism and hard work. Naomi Judd was first known to the world as half of country music's mother/daughter duo, The Judds, reaching...
read full bio

Saturday Night Live cast member Nasim Pedrad put her own unique stamp on SNL with impressions of Kim Kardashian, Barbara Walters, Christiane Amanpour, Arianna Huffington, and Supreme Court justice Sonia Sotomayor. She has also entertained us with her parent-loving and quirky character Bedelia. Pedrad joined the cast of Saturday Night Live in the 2009-10 season from The Groundlings Theater in...
read full bio
Style:
Comedian
Min. Fee: $30,000-$50,000

After grad school, Philbrick worked for four years at Sailing World magazine; was a freelancer for a number of years, during which time he wrote/edited several sailing books, including Yaahting: A Parody (1984), for which he was the editor-in-chief; during this time he was also the primary caregiver for his two children. After moving to Nantucket in 1986, he became...
read full bio
Topic:
Author
Min. Fee: $30,000-$50,000

No doubt about it, in the 20 years since he released his first single, Neal McCoy - the one-of-a-kind country singer and consummate live performer - has enjoyed every minute of his long, successful career. Even with 11 albums, over 25 charted singles and countless thousands of touring miles already under his big belt buckle. Whether he's delivering a stirring...
read full bio

After a crippling car accident derailed his successful career as a radio talk show host and PR/communications specialist, Neale Donald Walsch fired off an angry letter to God and, to his surprise, received an answer. By using a process he likens to "taking dictation," Walsch wrote down the words conveyed to him in a soft, disembodied voice. The result was...
read full bio

Neon Hitch is a British singer and songwriter. She began recording her debut album, Beg, Borrow and Steal in March 2010 with Blanco. She released promo single, "Get Over U", co-written by Sia, for free in January 2011. This was followed by "Silly Girl", "Bad Dog" and "Poisoned with Love", the latter which appeared in Teen Wolf and Now That's...
read full bio
Style:
Pop
Min. Fee: $30,000-$50,000

Nicholas D. Kristof, a columnist for The Times, is a two-time Pulitzer Prize winner who writes op-ed columns that appear twice a week. Mr. Kristof and his wife, Sheryl WuDunn, won a Pulitzer Prize for their coverage of China's Tiananmen Square democracy movement. Mr. Kristof won a second Pulitzer, for commentary for what the judges called his graphic, deeply reported...
read full bio

Actor and comedian Nick Kroll was raised Jewish in Westchester County, NY. His live performance is a mix of standup, sketch and characters. Some of Kroll's best known characters are Bobby Bottleservice, Fabrice Fabrice, craft services coordinator for the sitcom That's So Raven, and Gil Faizon of the Oh, Hello Show, which he created with writing partner John Mulaney. Kroll...
read full bio
Style:
Comedian
Min. Fee: $30,000-$50,000

It all started when five hard-rockin kids from the San Francisco Bay Area joined forces in the early 80s to form Night Ranger. Like no other 80s' rock band, Night Ranger both epitomized and transcended the sound and style of that decade. Night Rangers debut album Dawn Patrol hit the charts hard, going instantly Top 40 with the, now anthemic...
read full bio
Style:
Rock
Min. Fee: $30,000-$50,000

Over forty years of performing, The Nitty Gritty Dirt Band and its quartet (Jeff Hanna, Jimmie Fadden, Bob Carpenter and John McEuen) are still going strong. Nitty Gritty Dirt Band's self-titled debut album, included the pop hit "Buy For Me The Rain." But it was their 5th record, Uncle Charlie and His Dog Teddy, that would become band's breakthrough...
read full bio

Norm Stewart is a retired American college basketball coach. He coached at the University of Northern Iowa (then known as State College of Iowa) from 1961 to 1967, but is best known for his career with the University of Missouri from 1967 until 1999. He retired with an overall coaching record of 731-375 in 38 seasons. The court at Mizzou...
read full bio
Displaying 14 Talent Profiles