Saved Talent: 0 | Contact CTI with my list
Showing All Talent within a Budget Range of $100,000.00-$149,999.00 -
Displaying 8 Talent Profiles

The Cult rose to fame from the streets of London to become one of rock's biggest attractions of the mid-80's and 90's. Critically acclaimed records and radio hits such as "She Sells Sanctuary," "Wild Flower," "Love Removal Machine," "Edie" and "Fire Woman" propelled the band to arena status. However, the band's disdain for the "big machine" of the music business...
read full bio

Since they first joined voices in 1998, The Irish Tenors have made countless traditional treasures breathe with new life. They have proven themselves gifted interpreters of a wide range of material, with such songs as "Fairytale of New York," "My Heart will go on" by Celine Dion and Jimmy Kennedy's "South of The Border." These songs live comfortably in their...
read full bio

More than 30 years has elapsed since The Moody Blues entered the music scene. Their innovative and ground-breaking album Days of Future Passed" is one of the best classic-rock albums of all time. The album stayed on the Billboard charts for over two years and marked a milestone in rock history as one of the very first concept albums, recorded...
read full bio
Style:
Rock
Min. Fee: $100,000-$150,000

The Shins are an indie rock band comprising singer, songwriter, and guitarist James Russell Mercer, guitarist/bassist Dave Hernandez, Eric Johnson of the Fruit Bats, drummer Joe Plummer and bassist Ron Lewis. Their sound draws on several musical genres, including pop, alternative rock, alternative country, and folk. The Shins were formed in Albuquerque, New Mexico, but are now based in Portland,...
read full bio

Widely recognized as one of the greatest college football players of all time, Tim Tebow's collegiate career at the University of Florida culminated in two national championships and his being honored as the first sophomore recipient of the Heisman Trophy. A fierce competitor with a strong work ethic, Tim is a leader his teammates trust and respect, and it is...
read full bio
Style:
Football
Min. Fee: $100,000-$150,000

The Hunt for Red October, Patriot Games, Clear and Present Danger, and The Sum of All Fears have been turned into commercially successful films with actors Alec Baldwin, Ben Affleck, and Harrison Ford as Clancy's most famous fictional character Jack Ryan, while his second most famous character John Clark has been played by actors Willem Dafoe and Liev Schreiber. Over...
read full bio
Topic:
Author
Min. Fee: $100,000-$150,000

Tommy Lee Jone's film roles include federal marshal Samuel Gerard in The Fugitive and U.S. Marshals, the villain Two-Face" in Batman Forever, terrorist William Strannix in Under Siege, Agent K in the Men in Black films, Western police officers Woodrow F. Call in Lonesome Dove, Ed Tom Bell in No Country for Old Men, a Texas ranger in Man of...
read full bio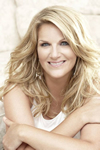 Trisha Yearwood rose to fame as a protégée of Garth Brooks but quickly staked out her own identity as an assertive yet vulnerable modern woman. Trisha Yearwood's single, She's in Love With the Boy," rocketed to the top of the country charts, making her an instant star. "Like We Never Had a Broken Heart," "That's What I Like About...
read full bio
Style:
Country
Min. Fee: $100,000-$150,000
Displaying 8 Talent Profiles